I am so excited to see many Sacramento Valley writers and friends from the wider region preparing to attend the annual Associated Writers and Writing Programs (AWP) conference in Los Angeles March 31-April 2 this year!
Below, you'll find the list of events in which I am participating (plus some that I am tracking for the common good), and I would love to see you at any/all of these!
And here I offer some thoughts and advice for anyone attending for the first time:
AWP is insanely huge. With over 12,00 participants, 800 organizations, 500 panels/readings/craft talks plus countless offsite events (What are those? Read on!), you will feel thrilled, overwhelmed, anxious, excited, happy, sublimely intelligent, utterly stupid, super cool, super un-cool, and–most certainly of all–exhausted and exhilarated during this event (and often all at the same time!). Come ready to embrace the craziness.
The key to AWP happiness is to LIMIT YOURSELF. List out everything you want to do–all the panels, all the booths you want to hit, all the offsites (Trust me, read on for these!), all the individuals you want to try to run into, have coffee with, etc. Then cut out half. Then cut out half again. Now you have a list that might be doable without certain death-by-overwhelm! Or, an alternate approach: Spend one day in the book fair, one day wandering the panels, and one day wandering offsites. Or: Just show up and see what seems right in the moment to do, and go with it.
Eat breakfast, lunch and dinner. Drink lots of water. Go easy on the caffeine, and on the alcohol. It's a marathon, not a sprint. The convention center turns into the ninth circle of hell when you blood sugar plummets, your heart races from that "treat" of a quad latte, and/or your brain says "Goodnight! I'm going to sleep now!" after your third Scotch in the conference hotel bar where you have been waiting for an hour to meet [insert famous writer] and express your undying artistic crush. Trust me. I am a chronic over-doer, and events like this just set that part of me spinning at about a milling RPM. Treat your body and nervous system with some intentional TLC and you'll have so much more fun!
Need a place to call home during the conference? You are invited anytime to swing by the Sacramento Poetry Center/Under the Gum Tree booth, number 621, in the Bookfair where you will be greeted with joy. We are all veteran AWP'ers, so come with your embarrassing questions, your victories and defeats, and your fangirl/fanguy freak-out moments. We will be all smiles!
The Bookfair: Yes, it's HUGE! One year, I spent almost the entire conference going table to table–yes, to every single table in the bookfair–to really learn the landscape of literary publishing in the USA today. And I still felt rushed. The Bookfair is a great place to quickly say hi to many of your favorite all star writers, and also to connect in person with orgs that have supported your work. Here are the main strategies for the Bookfair that have worked for me: First, go to the orgs that have published your work recently and thank them again for all they do. Then: (1) Pick an interest and list out/wander and look for orgs that connect with that interest; for two years ago, I went to every org that published chapbooks. Last year, I went to all the poetry publishers that run prestigious first book contests. (2) Visit only the literary journals. I did this three years ago, and it was so helpful in upping my submitting game. (3) Check out your bookshelves. What presses seem to be consistently publishing some of your favorite books? Look for them in the bookfair. Connet. (4) Wander and see who or what catches your eye. 
Okay, so, Offsite events: These are where the good times really roll. Both Under the Gum Tree and Sacramento Poetry Center are hosting offsites. See below for details! And see the conference website for listings.
Spend an afternoon on the AWP website where you can view the official conference schedule, offsite event listings and download the conference app to your phone. I used the app last year and, while it's not perfect, I really found it helpful! You can use the schedule on the website or the app to select events into a convenient personal calendar list. In the app, you can make notes about things to remember for when you go to each event. You can also select booths to visit from the list of Bookfair exhibitors and make notes about what to do when you visit them. And, you can add your own to-do's with notes. You can set calendar alerts, etc. This all–for me, at least–helps combat the overwhelm…
At the end of the day, with AWP, it's important to be honest with yourself about what you want out of the conference. Don't try to do what the trendy things are, because it's all trendy and it's all completely not trendy, depending on who you are. Focus less on what you feel you should do and instead on what you want to do. What will bring you the most joy in this short time with many of the best writers, publishers, editors, universities and community organizations in our country today? Answer that question as best you can. And then go, and do!
Okay, here are some of the events I am tracking. I hope to see you at one or more of these!
xoxo until L.A.,
Kate
**
Robert Muroff Bookfair Stage, LA Convention Center, Exhibit Hall Level One
10:30 am to 11:45 am
Though commonly known as a poetic artifact, the chapbook form enjoys increasing recognition for its presentation of fiction, creative nonfiction, and hybrid works. This panel, composed of independent and university presses and journals, will explore the unique and compelling nature of the chapbook form across genres. What are its advantages and limitations over presenting work as single pieces and as book-length collections? Panelists will share resources for engaging with the chapbook form.
Leah Maines is publisher of Finishing Line Press and has edited over 800 poetry collections, including several award-winning titles. Leah is an award-winning and bestselling author, poet, writer, editor and actor. She served as poet in residence for Northern Kentucky University in 2000 (funded in part by the National Endowment for the Humanities). www.imdb.com/name/nm4558801/. Twitter handle: @leahmaines.
Lawrence Lenhart is the author of the forthcoming collection, ISOLATING TRANSGRESSION: ESSAYS (Outpost 19). His work has appeared in Alaska Quarterly Review, BOAAT, Fourth Genre, Guernica, Gulf Coast, Hobart, Passages North, Prairie Schooner, Terrain.org, Wag's Revue, and elsewhere. He holds an MFA from the University of Arizona, teaches fiction and nonfiction at Northern Arizona University, and is a reviews editor and assistant fiction editor of DIAGRAM. His reviews and interviews have appeared at The Rumpus and the Brazos Bookstore Blog. See how he handles things @Law_Is_Len.
Josh Fomon, originally from Iowa City, is currently a political operative in Seattle. His first book Though We Bled Meticulously is hot off the presses with Black Ocean. He is a former editor-in-chief of CutBank and founded CutBank Books.
Panel Moderator Kate Asche's poetry is forthcoming in Natural Bridge and has appeared in The Missouri Review (audio online) and in Pilgrimage, Bellingham Review and elsewhere. Her chapbook, Our Day in the Labyrinth, was published by Finishing Line Press in fall 2015. A graduate of the UC Davis creative writing program, she teaches workshops in Sacramento and is associate editor at Under the Gum Tree. www.kateasche.com. Find Kate on Facebook, and on Twitter @KateAsche.
**
Thursday PM: 4:30 – 5:00, Kate Signs Books at Sacramento Poetry Center Booth #621
Thank you to Frank Graham for setting this up for many lovely writers! Come by for a chat and check out my Finishing Line Press chapbook, Our Day in the Labyrinth. Here's the full lineup: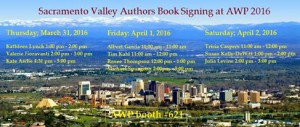 **
An AWP Offsite Reading sponsored by Why There Are Words! Featured readings by:
Stacy Bierlein, Carmiel Banasky (carmielbanasky.wix.com), Jan M Ellison (www.janellison.com), Meg Howrey (www.meghowrey.com), Gallagher Lawson (gallagherlawson.com), Patrick O'Neil (patrick-oneil.com), Marisa Silver (marisasilver.com), J Ryan Stradal (www.jryanstradal.com). Hosted by Peg Alford Pursell (www.pegalfordpursell.com)
Venue: thecontinentalclub-la.com and http://www.eventup.com/venue/the-continental-club.
More info about this spectacular event at the WTAW website, http://whytherearewords.com/wtaw-goes-to-la-march-2016.
**
Friday Night: Join Kate at Under the Gum Tree + Fourth Genre Offsite Reading
Friday, April 1 at 6 PM – 7:30 PM at Bonaventure Brewing – Facebook event: https://www.facebook.com/events/678685065568376/
Join Under the Gum Tree and Fourth Genre for a rooftop garden happy hour of telling true stories. Both magazines, publishing exclusively nonfiction, are partnering on this event to bring you a line up of previous contributors — many of whom will be descending on Los Angeles for Association of Writers & Writing Programs annual conference (AWP).
Grab your happy hour drink of choice from the cash bar and toast some true stories and in a short & sweet storytelling lineup of readers from past Under the Gum Tree & Fourth Genre issues before heading out to make material for new true stories of your own.
If nonfiction is your thing, we hope to see you. You'll meet the staff, hear some of what we've published and get a peek at our current issue. Oh, and maybe even win a magazine (we'll be doing a raffle)!
The evening will feature readings from Under the Gum Tree contributors Penny Guisinger, Ira Sukrungruang, Camille Griep, & James M. Chesbro and Fourth Genre readers Kathryn Winograd, TaraShea Nesbit, Kate Carroll de Gutes, & Kati Standefer.
**
Friday Night: Join Kate **as She Reads Poetry!** at Tupelo Press's Offsite Reading
Friday, APril 1 at 8 PM – 9:45 PM at Bonaventure Brewing
Facebook event: https://www.facebook.com/events/1709320735978707/
Featuring brief readings by Tupelo poets Tony Barnstone, Hadara Bar-Nadav, Lawrence Bridges, Lauren Camp, Nancy Naomi Carlson, Annie Guthrie, Ruth Ellen Kocher, Stephen Massimilla, and Jennifer Militello, as well as 30/30 poets Kate Asche, TJ Jarrett, Joan Naviyuk Kane, and Ruben Quesada.
There will be a cash bar, with complimentary hors d'oeuvres. Look out on the city from this lovely rooftop space, and celebrate 16 years of Tupelo poetry with us. Along with our poets, Jeffrey Levine and Marie Gauthier will be on hand to welcome you. Join us!
**
Friday Night: UC Davis & Portland State Offsite
6:00 pm to 8:00 pm ~ The Bold Room, 958 S Broadway, Los Angeles, CA 90015
PSU + UC Davis MFA Reading ~ Cost: Free
Facebook event: https://www.facebook.com/events/474620602743583/
Join us for a night of readings featuring Portland State University MFA faculty members Leni Zumas and John Beer as well as UC Davis MFA faculty members Pam Houston and Katie Peterson. Alumni and current students from both MFA programs will also be reading their work. Free beer provided by Goose Island. Contact: Stephanie Wong Ken
**
Friday Night: Tule Review Reading at L.A. Live
Friday, April 1 at 7 PM – 8 PM at Tom's urban L.A. Live ~ Facebook event: https://www.facebook.com/events/1722869547957078/
California's capital city publication Tule Review and the Sacramento Poetry Center Press sponsors this special social justice reading at Tom's Urban. You'll find this sports bar and restaurant (turned literary venue) just a five-minute walk from the AWP Los Angeles Convention Center. In a year meant for political discourse, and with the diversity and national focus of this annual poetry anthology, you are sure to be entertained! Please share this event with friends and fellow convention folk. Click on the invite button and let's pack the house!
Featured readers: Sharon Coleman, Tim Kahl, Lee Rossi, Nancy Aidé González, Penny Kline, Jim Heavily, and more to come
**
Saturday Night: Join Kate at Sacramento & Friends AWP Hangout – at the Conference Hotel Bar
Saturday, April 2 at 9:30 PM ~ 900 W Olympic Blvd, Los Angeles, CA 90015 ~ Facebook event: https://www.facebook.com/events/1696358113969357/
We're all so busy at home that it can be hard to connect. Take time to relax and celebrate the end of a wild and successful #AWP16 with friends at this no-host writerly hangout. Kate and company will head down a bit earlier to find a spot in the bar. Bring friends, new and old! Come anytime! We'll be there till 11:00 and probably later.