Dear Writers, Readers and Friends,
Did you miss last night's kickoff of the new monthly reading series, Stories on Stage Davis? With fabulous performances of work by Michelle Woods and Valerie Fioravanti? Hosted and curated by the boundlessly charming Jeri Howitt, at the mic below?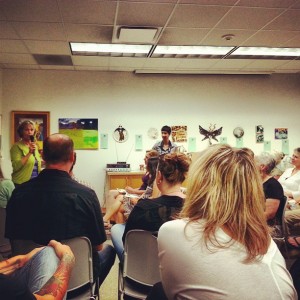 SOS Davis is held upstairs in a cozy, art-full room at the Pence Gallery at 212 D Street. The parking gods were with me last night, and I rolled into a spot right in front of the gallery. When I entered, I gave my suggested $5 donation (bring a few extra dollars–like two or three–if you want a beverage or a delicious baked treat) and received a lovely half-sheet program with the bios and photos of the two featured authors and the actors performing their work (Pam Metzger and Jim Lane, respectively) as well as preview of next month's featured writers: Jodi Angel, with emerging writing Azin Arefi's piece opening the evening (that event will be Saturday evening, October 12–doors open at 6:30 and the event starts promptly at 7:00).
A sister series to Stories on Stage Sacramento, SOS Davis combines great stories with experienced actors to create an event that is half-stage performance, half-literary reading–and all wonderful!
You can find SOS Davis on facebook and twitter. Also, you can you sign up to receive email event notifications via a one-click form on the website. (I just did it–took me two seconds, literally.)
In addition to attending the series, perhaps you–or someone you know–writes engaging fiction that you'd like to have considered for performance? Or maybe you are an experienced actor who'd like to perform a story? Head to the website to submit, following these guidelines:
Writers: Stories on Stage Davis is now accepting short stories or stand-alone excerpts from novels. We prefer stories of 3000 words or less, but will consider great stories up to 5000 words in length. We give preference to authors living in Davis and surrounding areas, but are happy to look at great writing from anywhere.
Actors: Stories on Stage Davis is also accepting written resumes or video links from actors who are interested in reading and interpreting written works. Again, we give preference to local talent.
Please join me in welcoming Stories on Stage Davis to our literary community–and in supporting the series through spreading the word and attending–and enjoying–it!
~Kate