Friends and Writers,
I am offering a special gift to those who pre-order
Our Day in the Labyrinth
 by the end of TODAY:
A one-time print run postcard broadside sent to you, with a hand-written thank you from me! 
Please reserve your copy via online pre-order today (just click here)
!
$12.49 plus $2.99 shipping.
Or, I can take orders directly and have the press ship them to you. Please email me at kate (at) kateasche (dot) com to arrange!
But what *is* a broadside, anyway?

A broadside is a short bit of literature–a quote or a poem–designed on the page to be displayed as a visual work; the text is often paired with a visual image. These postcard broadsides are printed on acid-free archival bamboo fiber paper with archival gallery ink. The are delightfully miniature, perfect for your fridge or bulletin board!
Here are two

LOW-RESOLUTION

samples of the several designs I will be creating: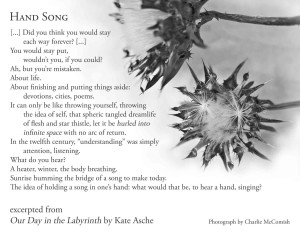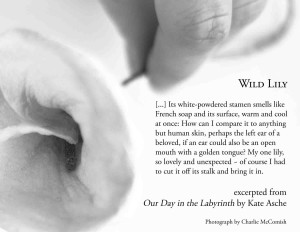 If you'd like to experience some more poems from the chapbook, check out these links (and consider ordering a copy of the Summer 2015 Colorado Review, and read my poem "Incoming" there! It's also in the chapbook):
To hear the poem, "Know/Don't Know" at The Missouri Review website, click here. (This poem was a finalist for the 2011 Audio Contest at The Missouri Review.)
To hear Kate's poems published in Quiddity International Literary Journal (Volume 6.2 – Fall/Winter 2013) click here for "Hook Jaw and Bone" (featured in the chapbook) and here for "Eye." (Thanks to Chris Alford and Epiclesis for recording!)
To hear Kate's poem "Small Animals," published in RHINO Poetry 2012, click here. 
To read Kate's poem "Flame," published in the Winter 2013 issue of The Summerset Review, click here.
To see work from Issue 110 of Confrontation, in which Kate was published, click here. To read Kate's poem from that issue, "Hand Song," click here: Hand Song by Kate Asche.
Thank you for your support of poetry!
xo
Kate